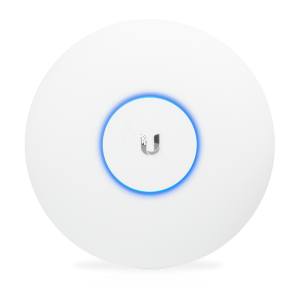 Ubiquiti UniFi is a revolutionary WiFi system characterized by unlimited scalability and top-class performance while maintaining competitive prices. Easy configuration, optimisation of operation and efficient network management in ensured by UniFi high-class software.
UniFi Enterprise WiFi System devices adapt the latest WiFi 802.11ac MIMO technology which allows high-speed data transfer over long distances – up to 200 meters without a performance drop. This feature combined with unlimited system scalability allows creating a WiFi network covering any size of the area with buildings of even the largest companies and universities.
The Ubiquiti offer for WiFi solutions includes access points designed to work indoors and outside in open spaces. The maximal data transfer speed in 2.4 GHz technology is 450 Mb/s and in 5 GHz up to 1.3 GB/s. UniFi AP-AC is the fastest device among access points.
Available as three different Wi-Fi 802.11n models, the UniFi® AP is an Access Point ideal for deployment of high-performance wireless networks.
Models: UAP, UAP‑LR, UAP‑PRO
Sleek Industrial Design
Featuring a clean industrial design, the UniFi® AP can be integrated seamlessly into any wall or ceiling surface (mounting kits included). The LED indicator simplifies deployment and configuration.
Scalability for Thousands
With its software-based capabilities, the UniFi® virtual control plane allows for unlimited scalability under one centralized controller.
Rapid Deployment
Plug and Play installation and intuitive management reduce the need for dedicated IT personnel resources.
Amazing Long-Range Links
The UniFi® AP-LR offers a longer range – up to 183 m – than the base model UniFi AP or UniFi AP-PRO.
Simultaneous Dual-Band Wi-Fi
The UniFi® AP-PRO supports up to 300 Mbps, 2×2 MIMO for the 5 GHz band and up to 450 Mbps, 3×3 MIMO for the 2.4 GHz band.
No Software Fees
The UniFi® Controller software is bundled with the UniFi AP hardware at no extra charge — no separate software, licensing or support fee.
Scalable Enterprise Wi-Fi Management
The UniFi® Controller software is a powerful, enterprise wireless software engine ideal for high-density client deployments requiring low latency and high uptime performance. A single UniFi Controller running in the cloud can manage multiple sites: multiple, distributed deployments and multi-tenancy for managed service providers.
Intuitive and Robust Configuration, Control and Monitoring
Instantly provision and configure thousands of UniFi® APs. Quickly manage system traffic.
Custom Maps and Google Maps
Upload custom map images or use Google Maps for a visual representation of your wireless network.
WLAN Groups
Take advantage of WLAN groups for flexible configuration of large deployments and enable wireless connection between APs to extend range.