Nec Phone Systems Dubai
NEC Telephone Systems Dubai offer extensive variety of media transmission arrangements . Nec telephone frameworks joined with cutting edge business functionalities in an easy to design PBX System.NEC telephone frameworks consolidate the most recent innovative advantages for business efficiency. Both Large and private ventures advantage from utilizing NEC telephone frameworks. Nec wise plan fathoms the present interchanges challenges and is worked to scale as your business grows.In the present profoundly aggressive business condition, viable and dependable correspondences are basic to an organization's prosperity. Subsequently, it is vital that you put resources into a bound together interchanges arrangement that enables you to exploit the most recent profitability improving IP applications that can convey expanded execution all through your association.
Nec Phone Systems intended to be both versatile and highlight rich and takes care of the developing requests of todays business.All the specialized techniques like IP, TDM, Video , Wired or Wireless, SIP Protocol are upheld in NEC PBX System. The SIP Protocol bolster on NEC PBX enable you to utilize extensive variety of SIP IP telephones accessible. As a business phone framework need to develop with your organization , Then the NEC Phone System can without much of a stretch relocate to bigger limit frameworks. Nec Telephone System empower you to send unadulterated IP Phone System and additionally customary Digital telephones or Circuit exchanged innovation.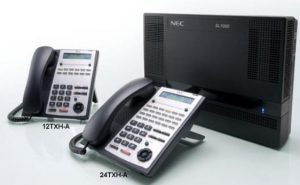 NEC SL1000 PBX SYSTEM
NEC SL1000 Smart Communication Server is an IP enabled intelligent hybrid system. It is designed to accommodate small and medium enterprise (SME). It is the most cost effective and affordable for expanding small and medium businesses. The basic system is equipped with 4 trunk lines 8 extensions and expandable up to 48 trunk lines 128 extensions.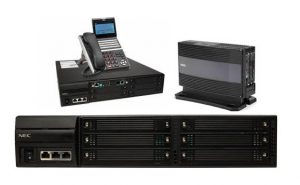 NEC SV9100 PBX SYSTEM
NEC's SV9100 Communications Server is a Unified Communications solution that is tailor made for small and medium-sized businesses.Features such as Voicemail to Email and Call Recordingno longer need special daughter boards and expanded memory cards with the super-charged CPU of the SV9100 phone system – in fact, the SV9100 is so powerful, the whole InMail voice mail application runs within an on-board micro SD card. We love the simplicity, and you will love the feature rich nature of the SV9100.